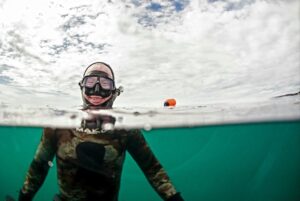 Please note: between COVID, and the fact we recently added on a number of freediving instructors, our freediving program is in flux. We've been grateful to be participating in a massive surge in Alaskan freediving, but as with all things that grow quickly, we've been ironing out exact details regarding pricing of courses and schedules with pools. We love you all, and thank you for your patience.
As Alaska's first training and retail center supporting Alaskan freediving and spearfishing, we're excited to share the beauty and scope of Alaska's waters with locals and visitors alike. Alaska boasts some of the most stunning cold-water freediving in the world, and whether you're looking to spear a world-record king salmon, or just want to see what's over that ledge beneath your boat, some of the most stunning underwater experiences in the world are just one breath away!
First off, we love diving in Alaska, and will unashamedly encourage you to pursue your full certification locally. That said, we understand that sometimes it's easier to finish your certification while on vacation, or in a way that fits your schedule. Which brings us to the two options that you can become a diver!
BASICS OF FREEDIVING: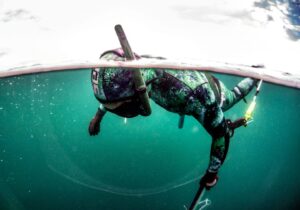 This option allows you to begin your training here in Alaska with evening or weekend classes which include classroom sessions and pool sessions. Once you have completed this portion, we can start the process of "referring" you to a freediving instructor/center at your travel destination and you can (and should) progress to Level 1 Freediver right here in Alaska!
The tuition for this course varies depending on the size of the class, and involves and SSI Basics of Freediving e-learning program.
Required materials: SSI e-learning materials, mask, snorkel.
CONTACT US TO BOOK A CLASS TODAY!