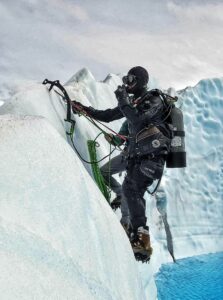 Diving in a glacier? In Alaska? Via a helicopter flight across an expanse of ice like you've never seen before?
Sounds like a fantasy, right? In a way, it is. It shouldn't be possible, and yet, here we are.
Join us and Sheep Mountain Lodge for one of the most insane, beautiful, rare, truly unique diving experiences on the planet. Carried through the sky, over alpine ranges, and across Matanuska Glacier by the expert pilots at Sheep Mountain Lodge, you will seek out and plunge into stunningly-blue glacial moulins that will physically and metaphorically take your breath away.
Believe us when we say, it is one of the most humbling and incredible dive experiences in the world.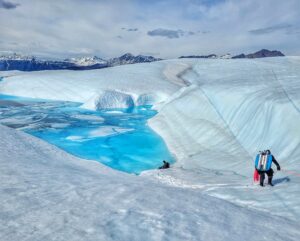 What the price includes:
Transportation from Sheep Mountain Lodge to Matanuska Glacier
Helicopter flight for you and your dive gear
Logistics (bookings, dive plans, safety procedures/equipment/etc)
An experienced guide and safety diver for your time on the glacier and in-water
A truly unique, once-in-a-lifetime experience
What the price does not include:
Transportation between Anchorage and Sheep Mountain Lodge
Transportation of any dive gear between Anchorage and Sheep Mountain Lodge
Tangibles, such as food, tip for helicopter pilot or guides, toll fees, parking, etc
Freediving Matanuska  Glacier
| | |
| --- | --- |
| Group Size | Cost Per Person |
| Private (1 Person) | $950 |
| Shared (2 People) | $750 |
| Group (3 People) | $650 |
| Party (4 People) | $550 |
Scuba Diving Matanuska  Glacier
| | |
| --- | --- |
| Group Size | Cost Per Person |
| Private (1 Person) | $1,250 |
| Shared (2 People) | $975 |
| Group (3 People) | $900 |
| Party (4+ People) | $850 |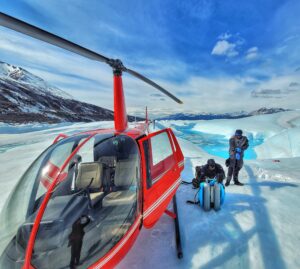 Prerequisites for scuba diving:
Minimum of 25 logged drysuit dives, or proof of recent drysuit experience (maximum of 3 months since last drysuit dive).
Remember, we're talking about a helicopter and a glacier. Water moves. Weather changes. Pools disappear and form. There isn't a predefined season, so please don't ask. Spring, summer, and fall are all possibilities, but it is ultimately the final call of the guides and the pilot if, when, and where to go. It is our job to keep you safe, and if that means saying "Sorry, we can't do this." we will.
Please bear in mind, that while your trip to Alaska may be your vacation, we live here! We will do everything in our power to help you get into the water, but availability of our guides varies from day-to-day, so as much advance notice as possible is incredibly helpful (and helps increase the odds that pilot will be available for your trip).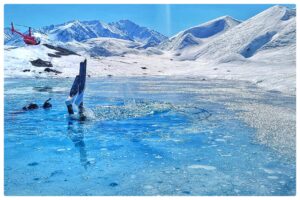 As for the legal-ese stuff we wish we didn't have to say, but unfortunately do: payment is required at time of booking, and may be cancelled no less than one week (7 calendar days) in advance. Any cancellations with less than five business days may become non-refundable, depending on the service or charter being used.
NOTE: Any additional persons, diving or not, count towards the numbers listed above, as the cost is calculated based on the flight time of the helicopter.
Note: Gear transport to-and-from dive sites can typically be arranged for a courtesy/cleaning shuttle fee, typically $50 per set of gear round-trip, or $25 one-way. However, this varies from guide-to-guide, so please ask when booking!
Contact Us to schedule a course or dive trip today!
FOR A COMPLETE LIST OF DIVE ALASKA'S POLICIES | CLICK HERE