Our History
Dive Alaska was founded in 2005 to grow local diving and expand the opportunities available to the Alaskan diving community.
Scott Anderson was running the only licensed and insured dive boat in the South Central Alaska area, but many of the divers were coming aboard ill-prepared and ill-equipped for the rigors of Alaskan scuba diving. After some close calls and obvious training issues cropped up, Scott decided he needed to open a dive shop to support the type of scuba diving he wanted to be able to do.
At this point, the dive boat was a 6-pack trawler which operated every other weekend. With the opening of the shop, we gained the capacity to blend nitrox, rent equipment, and develop our own training program. We gained status as a PADI dive center and began operations in March 2005. Since then, we have grown to double the original shop size and we currently enjoy PADI 5-star status.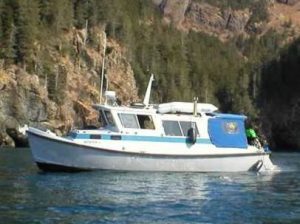 In 2005, we invited a couple of GUE Instructors up from California to explore this "new" type of training which we had heard about. The training Agency is called "Global Underwater Explorers," and the rumor was that the curriculum was much more challenging than any other certifying agency. Scott gathered 6 of his best dive buddies at the time and they all promptly FAILED a scuba class for the first time in their lives!
They were dismayed (but impressed) with this course and promptly began to make plans to re-take the class at the generous offer of FREE if they passed the next time. Long story short, it took two more classes to pass. Now, as newly certified GUE divers, the world was their oyster! Their newly-developed skillset gave them the confidence to move on to cave diving courses, technical dive courses, and most importantly, finally being comfortable scuba diving in Alaska's local waters, along with the physical challenges that come with.
In 2007, Scott became a GUE Instructor and began teaching recreational GUE classes. He also held technical instructor credentials with TDI and ERDI. With the help of his beautiful wife Karen, (who is also a PADI instructor) they began to pursue the goal of developing the area's only sustainable, recreational diving charter business, and the largest dive shop in Anchorage.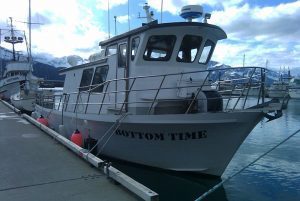 In 2017, Scott decided to step back from GUE instructing. In what would turn out to be a stroke of foreshadowing, his final student to pass a GUE course with him was Dive Alaska's current shop manager, Ron Fancher, a long-time employee and a diver who shares Scott's passion for scuba diving, instructing, and helping foster and grow the local dive community. When Scott announced his retirement at the end of the year, he passed the reigns to Ron and the rest of the Dive Alaska crew, and stepped back to enjoy more time with his lovely wife and grandchildren.
With the full knowledge that Scott left a legacy that would be a challenge to live up too, Ron and the rest of the Dive Alaska team have been off and running ever since (with the added help of Scott's occasional guidance and advice).
Today, Dive Alaska is capable of blending trimix, nitrox, and supplying argon fills. As a PADI 5-star Instructor Development Center, we can provide Instructor-level training and a full range of courses from a wide range of agencies. We have rental equipment sufficient to outfit a wide variety of skill sets and preferences. There are currently 5 instructors, 8 dive masters, 6 full-time shop employees, and one very supportive wife! Our passion is sharing our little portion of the ocean with our students, visitors, and other divers.
Welcome to Dive Alaska. It's good to have you aboard!