Our History
Dive Alaska is a local dive shop located in Anchorage, Alaska. By Alaskan divers, for Alaskan diving, serving the entire state. Just. Go. Diving.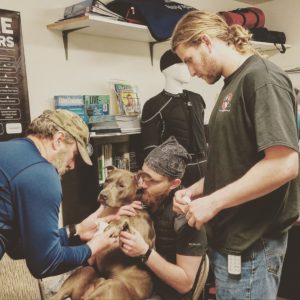 Dive Alaska was founded in 2004, and has gone through a couple different iterations. Currently, it is staffed by some of the greatest humans on the planet, and one loveable shop pitbull.
Dive Alaska is a 5-Star PADI IDC Center, a Global Underwater Explorers Dive Center, and an SSI Freediving Center. We like to think we cater to everything uniquely Alaskan; whether that means dive training, drysuit repair, dredging, freediving, spearfishing, technical exploration and expeditions, off-the-wall psycho requests for rural diving, Alaskan cave diving, or just a plain ol' Discover Scuba Diving, we're here and excited to help. Nobody loves exploring Alaska underwater like we do, and we do our best to share that with others.
We've got some really unique things about us, and we're proud of them (because they were a lot of work)! We can do public safety dive training and recovery thanks to Jeremy and the Alaska Dive Search, Rescue, and Recovery Team. We have a killer (not literally!) crew of scuba diving and freediving instructors. Alex can train you to be a dive instructor, Ron can introduce you to GUE Fundamentals and take you through Tech 1, Josh can teach you sidemount diving, J.D. can teach you freediving, and Bruce, the shop dog, can supply the wiggles and excitement when you walk in the door.
We have a full service scuba diving and freediving retail center, a no-hassle return policy, and inventory aimed at supplying the state with exceptional offering and service. Our service and repair department is responsive and imaginative, and happy to help with any problems, issues, or repairs needed to your diving, surfing, swimming, dredging, or general Alaskan watersport gear.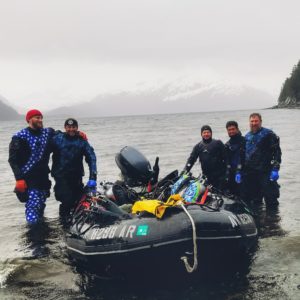 All of our instructors are actively diving and exploring for fun, and while our course fees may be a little more expensive than warmer locales, it's because we're passionate about what we do, and always want to take the time to help safely and thoroughly train our students and dive buddies, so that they can enjoy the water here as much as we do. There's no "take your money, send you on your way" approach to dive training here.
In everything, we strive to be fair, honest, fun, and welcoming. As we say: we take diving incredibly seriously… we just don't take ourselves seriously. We promise that vintage episodes of Sea Hunt will *always* be playing on the retail floor, and that we will do our best to take care of every person who comes through the door.
Let us know how we can help, or just swing by to say "hi" to Bruce and shoot some hoops in the warehouse. And, above all else…
Just. Go. Diving.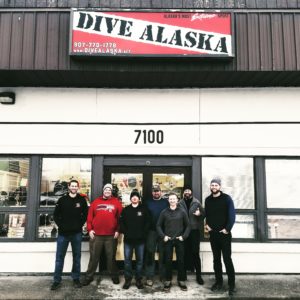 READ MORE ABOUT YOUR DIVE ALASKA FAMILY HERE!
CONTACT US TO BOOK A CLASS TODAY!