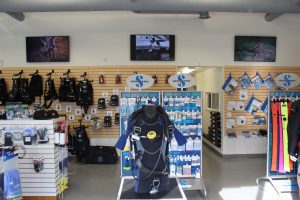 Our rental equipment is the same gear that we dive in! 
All of our rental gear is capable of supporting the demanding type of cold-water diving we do here in the land of the midnight sun, whether it's under the ice in Matanuska Lake, or on an expedition in Resurrection Bay.
Please drop us a line and give us as much advance notice as possible when renting gear. Whether it's sidemount tanks, to trimix bottles, to canister lights… we can hook it up (provided we have enough advance notice).
Daily Rates
| | |
| --- | --- |
| Tank (Air, LP 85) | $10 per day |
| Tank (Nitrox, LP 85) | $15 per day |
| Tank (Nitrox, HP 130) | $30 per day |
| Tanks (Double 100's) with 32% Nitrox | $60 per day |
| Tanks (Double 130's) with 32% Nitrox | $70 per day |
| Regulator | $20 per day |
| BCD | $20 per day |
| Drysuit (includes hood, gloves, boots and undergarment) | $75 per day |
| Mask, snorkel, fins | $15 per day |
| Wrist computer and compass | $20 per day |
| 3mm or 5mm wetsuit (if available) | $20 per day |
| Drop-In Pool Fee  | $25 per person |
| Cleaning Fee | $50 |
For added value, we offer all gear including tanks, regulator, BCD, compass, computer, weight, dry suit, undergarment, and hood for $125 per day (up to three tanks p/day) or $175 for the weekend. Our weekly rate for all gear is the sum of five days rental. You get two days free when renting for a week.
For specialty items such as full face masks, emergency oxygen kits, canister lights, sidemount tanks, or deco bottles, please call us in advance to reserve.
Rental tanks returned with less than 300 PSI will be charged for a visual inspection, and a tumble if necessary. Believe us, we don't want to charge for this, but draining the tanks means water can backfill them.
Late Return Penalty is the daily rate of the gear, plus 50% of the cost of total rental.
Contact Us to reserve gear today!