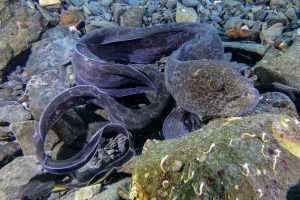 Interested in freediving? Click here! If you're here for the scuba, read on!
Congratulations on your decision to become a certified scuba diver! You are about to embark upon a journey that may change your life. Less than 5% of the US population will ever seek scuba certification making you a member of a very exclusive club! Surprising to us since 70% of the earth is covered in water! Let's get started…
First off, we love diving in Alaska, and will unashamedly encourage you to pursue your full certification locally. That said, we understand that sometimes it's easier to finish your certification while on vacation, or in a way that fits your schedule. Which brings us to the two options that you can become a diver!
Referral Certification: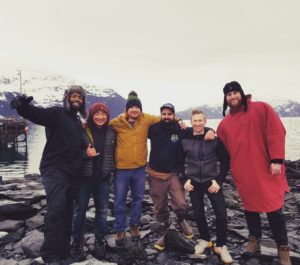 This option allows you to begin your training here in Alaska with evening or weekend classes which include classroom sessions and pool sessions. Once you have completed this portion, we "refer" you to a PADI instructor/shop at your travel destination and you can finish your open water (in what we assume is a slightly warmer climate).
Tuition: $399.00
Materials: $200.10
Personal Items Needed to Own: Fins, Mask, and Snorkel
Full certification:
If you want to dive in Alaska, or just want to be already certified before your vacation, we can complete your open water dives here! This course is offered year-round, so no need to spend your vacation in a classroom staring at a whiteboard.
If you do your full certification with Dive Alaska, we offer a number of added learning opportunities at prices exclusive to our open water students; PADI Drysuit Diver tuition comes included w/ Open Water (a $495 class, when taken on it's own), and upgrade opportunities are available for Enriched Air (Nitrox) certifications.
Tuition: $799.00 (includes Drysuit certification)
Materials: $200.10
Personal Items Needed to Own: Fins, Mask, and Snorkel
Decline Drysuit Upgrade: – ($99.00) off Open Water Tuition
Nitrox Upgrade: $99.00(+$77.90 for materials)
Schedule:
We offer total flexibility with our schedules. Primarily, our classes are scheduled for two nights a week and last for about 2 weeks. If you are a slope worker or have a schedule that will not allow you to attend one of our regularly scheduled classes, we're happy to customize a course for your schedule.
Call us or stop by with your schedule to discuss options and pricing for your own private scuba class.
Seriously Fun, Seriously Diving: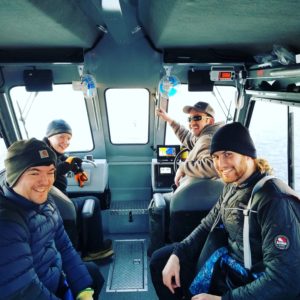 We believe that teaching someone to recreate on life support equipment below the surface of some of the biggest and most pristine water in the world is a huge privilege and responsibility.
With this responsibility comes the benefit of learning to dive from committed and thorough instructors who care about your safety, enjoyment, and having fun! We're not training students or customers; we're training the dive buddies that we're going to go diving, exploring, spearfishing, and traveling together with.
When you learn to dive in Alaska, not only do you have bragging rights for the rest of your diving career, you earn your diving certification.
Here's how "e-learning" works:
Click on the PADI logo below and a new browser window or tab will open to PADI's website. Select "Purchase an eLearning Course" to begin your studies immediately! Once you have completed the online portion, contact us to schedule the rest of the practical "hands-on" instruction and your pool sessions.

If you are looking to get fully certified in Alaska, you will join us for a weekend of diving in Resurrection Bay or Prince William Sound. If you only want to do the "referral" portion, you will complete the e-learning, the practical "hands-on" classroom and the pool sessions here. Then we will send you away with the necessary paperwork to be received by a PADI instructor at your destination. The instructor will complete your open water dives with you and issue the certification.
Easy-peasy.
Where to Start
To enroll in a Dive Alaska class, the very first thing you need to do is come in and fill out a student folder (even for e-learning), pick a course/schedule that works for you, and square up on tuition. We use your tuition to hold a spot in your dive course; even though we run two open water classes p/month, we still fill up courses as far as 4-8 weeks in advance.
This allows us to put you on the class roster and answer any questions or concerns you might have. This is also a good time to pick up your crew pack so you can be ready for your first day of class.
The Fine Print
As for the legal-ese stuff we wish we didn't have to say, but unfortunately do: tuition payment is required at time of enrollment, and may be cancelled no less than one week (7 calendar days) in advance. Any cancellations with less than five business days become non-refundable, as our instructors and staff plan courses around enrolled students, and many courses require a minimum number of divers to run.
If you are unable to attend a course for any reason, please let us know as soon as possible, and we're happy to reschedule. For no-call, no-shows, or last-minute cancellations, tuition is non-refundable. For our full cancelation and rescheduling policy, please check here.
Exceptions vary from course-to-course, so please mention any potential scheduling conflicts when enrolling, so we can work around them for you!
Please note: If you don't see the class you're looking for, feel free to contact us and arrange a course that fits your schedule! We offer a huge variety of courses, and our instructors can teach every PADI speciality (and even a couple that we've made ourselves)!