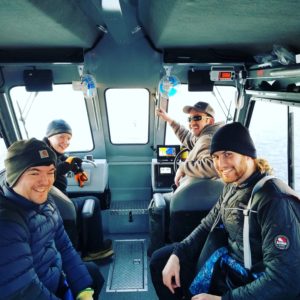 Howdy!
We get a lot of questions from divers visiting Alaska about what to expect from the diving up here.
These ten tips are designed to quickly answer a lot of the most common questions and misconceptions there are about Alaska diving for visiting divers.
If you're brand new to diving, and looking to learn, check out our training pages for scuba diving or freediving!
1. The Diving Here Isn't Good…
It's phenomenal. Seriously, see for yourself.
Any given day of diving can result in everything from discovering an uncharted shipwreck, getting swarmed by sea lions, drifting over acre-wide fields of plumose anemone, or mapping virgin dive sites.
That said, we are located in Anchorage, Alaska, and only typically offer guiding and excursions in SC Alaska, which means Whittier, Seward, Matanuska Glacier, and Homer. Outside of this area, any guiding or charter isn't a "trip" and is more an "expedition" and involves private charters, freight forwarders, and setting up fill stations on-site. We absolutely can do it, but the cost is well outside what we offer for guided diving services here.
Every year, Alaska gets hundreds of thousands of visitors that flock to the state for our pristine water, whether that's sport fishing, or marine wildlife tours. To be able to dip beneath the waves and catch a glimpse of that life in its natural environment is something truly special. We love the opportunity to share our water with visiting divers!
2. It's Not THAT Cold…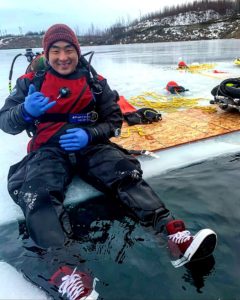 When people think Alaska, they think ice and snow. And while that's not wrong, it's definitely not completely accurate. Our water can get cold. Yes, we do go ice diving. But in terms of ocean diving, we rarely see water temperatures dip below 40° Fahrenheit, even in the dead of winter. Summer water temperatures in Resurrection Bay and Prince William Sound are comparable to the Pacific Northwest.
3. …But It Isn't Warm
As we said, Alaska water is nowhere near as cold as you think. But it's not warm, either.
If you're scuba diving in Alaska, you're probably going to need to be drysuit certified. We don't rent 7mm wetsuits, as they would only be practical for 2-3 months in the summer, although you are welcome to bring your own. For freedivers, that means you're going to need to have your own wetsuit, or purchase one while you're here.
Our recommendation for those divers out there who aren't drysuit certified, but want to dive in Alaska: schedule a drysuit class with us, or even better, get drysuit certified before you come to Alaska, so you don't have to spend any of your trip in a pool! 
Unfortunately, if you aren't drysuit certified, we legally cannot rent you a drysuit, even if you're a scuba diving instructor.

4. Fortune Favors Those Who Help Themselves
There are a ton of awesome catered tourist attractions in Alaska, from wildlife viewing, mountain guiding, fishing trips, cruises, and more. If that's what you're looking for, we highly recommend you take advantage of some of those excursions, and we're happy to make recommendations.
Scuba diving in Alaska is not one of those things.
For the most part, all divers—from locals, to students, to visitors—are expected to be personally responsible for all their dive gear, including picking it up and returning it to the shop here in Anchorage. We can, and do, make occasional exceptions to this rule, but when you're planning a dive trip anywhere in Alaska, it's wise to approach it like a backcountry hiking trip. If something goes wrong, you may have to deal with it yourself.
That doesn't mean that we won't do our best to lend a hand along the way, but our closest dive site is almost an hour-long drive from Anchorage, and logistically some things don't fit into a save-a-dive kit (like tanks).
5. Into the Wild
Alaska is big. Really big. All of our dive sites involve some manner of logistics, the closest being a 45-minute drive on a coastal highway and passing through the longest underground tunnel in North America.  
If you plan on diving here, you're definitely going to need to rent a car, but that's true of anything in Alaska that doesn't involve a cruise line. Anchorage is our hub, but all our diving takes place out of Prince William Sound (Whittier/Valdez) or Resurrection Bay (Seward).
6. Bend, Don't Break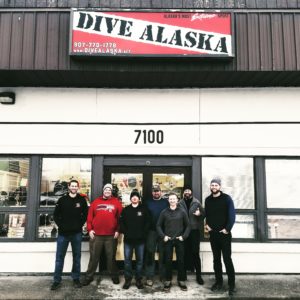 "Bend, don't break." is a short way of saying that Alaskan diving favors those who are flexible and willing to roll with the metaphorical punches.
Stuff happens. Things go wrong. The weather can suck. The water might be choppy.
Who cares?
The more flexible you are, the easier your diving will be.
7. Alaska is for Lovers (and Locals)
Please understand that while this might be your vacation, we live and work here full-time. If you're looking for a guided charter, and you only have one day to go diving, and it's mid-week: we are more than happy to get a charter or an excursion arranged for you!
Please understand that specific scenario can get expensive quickly (although not as expensive as some Alaskan adventures), as it involves hiring one of our guides, who in turn have to take a day off work. Most dive shop guides, instructors, or divemasters have full-time jobs independent of the shop, and we're no different.
8. Take it Easy
Alaska is a big place, and sometimes boats run late, traffic gets jammed up, tires go flat, etc. It's all good.
Relax, enjoy the scenery, and take it easy. We will always do our best to make our dive trips as professional and precise as possible, but sometimes, things happen outside of human control. 
9. Embrace the Suck
Anybody with a military background will already know what this means, but…
Diving in Alaska offers some unique challenges that are uncommon in most parts of the world. Between the landscape, weather, and equipment required, it can make diving in Alaska seem like a lot of work, and to some degree, that's true.
However, (and this is a big "however") the diving in Alaska is 100% worth the minor obstacles that come associated with. That's part of what makes it so rewarding! Not to get all cliche, but enjoy the journey.
(Psssst: if you only click on one link in this article… click on the one above this and watch that video.)
10. Just. Go. Diving.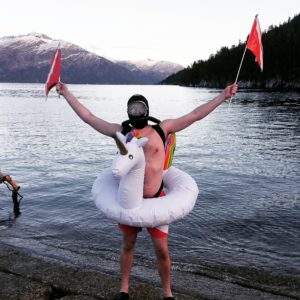 We have a saying in our local dive community: Just. Go. Diving.
It's kinda like our own "hakuna matata" and you'll find it on the back of all our t-shirts at the shop, and it encompasses everything that was written before this. We love diving, and we love diving in Alaska. We love sharing that with visiting divers and showcasing the absolutely stunning underwater world that Alaska has to offer.
This article was written in the spirit of "Just. Go. Diving." in order to help visiting divers know what to expect about diving in Alaska, and better equip them with knowledge that will make planning a dive trip during their visit to the state easier, simpler, and more enjoyable.
If you're planning a dive trip to Alaska, we hope this helped answer some of the questions you had. If it didn't, please feel free to call or email us, and we're more than happy to help.
Cheers, and safe diving!
Contact Us to schedule your Alaska diving adventure!
Looking to plan your own adventure? We applaud that, so here's a tip.
Need a buddy? Our experienced guides are here to help!