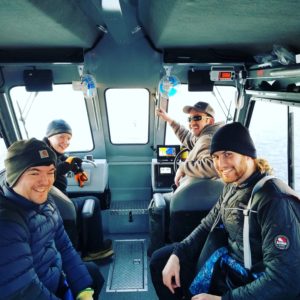 Diving in Alaska for the first time can seem  daunting, and a huge portion of our website is dedicated to helping new divers (local and visiting) orient themselves to Alaskan diving. Using the resources on our website, along with a little flexibility and go-ahead, you can plan your own dive and execute it.
If you're looking to maximize your time here, we can offer any number of trips based on your time and what you're looking to do. Below are two of our most common guided diving trips out of Resurrection Bay, in Seward Alaska. To offer the best possible experience, we cap our guide-to-diver ratio at 1-to-4.
The Fox Island Barge is a shore-based dive, via water taxi. The dive boat charter is through our buddy, Bixler, at Seward Ocean Excursions, and can take you anywhere in Resurrection Bay that the weather will allow.
What the price includes:
Transportation from Seward to the dive sites in Resurrection Bay
Logistics (bookings, dive plans, etc)
A divemaster or instructor to help show you around and help make the most of your dive
Some of the best cold-water diving in the world
What the price does not include:
Transportation between Anchorage and dive sites
Transportation of any dive gear between Anchorage and dive sites
Tangibles, such as food, tip for boat crews, toll fees, parking, etc
Fox Island
Barge
Excursion
| | |
| --- | --- |
| Group Size | Cost Per Person |
| Private (1 Person) | $650 |
| Shared (2-4 People) | $450 |
| Group (5-8 People) | $350 |
Dive Boat Charter
| | |
| --- | --- |
| Group Size | Cost Per Person |
| Private (1 Person) | $985 |
| Shared (2 People) | $675 |
| Group (3-4 People) | $450 |
Smitty's Cove, Whittier
| | |
| --- | --- |
| Group Size | Cost Per Person |
| Private (1 Person) | $500 |
| Shared (2 People) | $300 |
| Group (3-4 People) | $200 |
Please bear in mind, that while your trip to Alaska may be your vacation, we live here! We will do everything in our power to help you get into the water, but availability of our guides varies from day-to-day, so as much advance notice as possible is incredibly helpful (and helps increase the odds that a guide/boat will be available for your trip).
As for the legal-ese stuff we wish we didn't have to say, but unfortunately do: payment is required at time of booking, and may be cancelled no less than one week (7 calendar days) in advance. Any cancellations with less than five business days may become non-refundable, depending on the service or charter being used.
Note: Gear transport to-and-from dive sites can typically be arranged for a courtesy/cleaning shuttle fee, typically $50 per set of gear round-trip, or $25 one-way. However, this varies from guide-to-guide, so please ask when booking!
Contact Us to schedule a course or dive trip today!