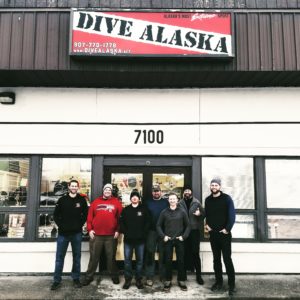 CLICK HERE FOR OUR EQUIPMENT SERVICE AND REPAIR FORM FOR MAIL-IN SERVICE.
Alaskans are hard on their gear. Whether you're a local dredger who needs new wrist seals, a commercial diver with a blown-out neck seal, or a recreational diver gearing up for a trip to Hawaii, our expert service staff will take care of your gear like it was their own.
If you need something done, and you don't see it listed, please feel free to drop us a line and see if can't help out. If we can't help, we will find you somebody who can.
Frankly, we've been doing this for a while, and if you can present us with something that we can't handle, we won't be mad, just impressed.
For an extended list of drysuit repair services specifically, click here.
SERVICES & RATES
| | |
| --- | --- |
| Cylinder VIP (Annual) | $25 |
| Cylinder Hydrostatic Test | $45 |
| Tank Tumble & Rinse | $45 |
| O2 Cleaning (tumble included, if necessary) | $45 |
| Doubles Assembly/Reassembly for Inspections | FREE |
| Regulator Overhaul & Service (Labor) | $30 p/stage |
| Regulator Parts | VARIES |
| O2 Cleaning Regulator (Labor) | $25 p/stage |
| Wetsuit Fabric Repair (up to three tears/patches) | $75 |
| Computer Battery Change (Labor) | $20 |
| Minor regulator inspection (leak check, IP, and cracking effort inspection) | $25 |
| BCD Inspection | $25  |
| Rush Fee (24-48 hours) | 100% of total labor |
| Rush Fee (3-5 days) | 50% of total labor  |
A note on Rush Fees: we do our best to avoid charging rush fees, except in the event of the job disrupting work flow in our service center.
This is where we put the obligatory, legalese stuff: Dive Alaska reserves the right to refuse to service certain equipment, just like you are well within your rights to ask for a written quote before we begin work.
Some gear can't be repaired. Some brands can't be serviced. Some holes can't be patched. We will always do our best, and we will NEVER nickle-and-dime you on service. However, sometimes fixing one problem will only reveal another one. We're human, and pledge to always do the best we can by our customers.
Any equipment left unclaimed for 90 days after completion of service will be considered abandoned and disposed of.
Contact Us to see if we can help get you back in the water faster!
SCUBA GEAR | TAKE A LOOK AT THE BRANDS WE SELL AND SERVICE!
FOR A COMPLETE LIST OF DIVE ALASKA'S POLICIES | CLICK HERE