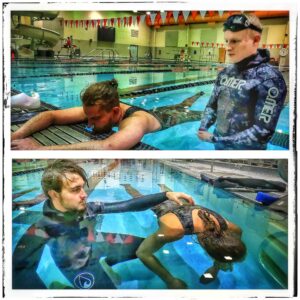 As Alaska's first training and retail center supporting Alaskan freediving and spearfishing, we're excited to share the beauty and scope of Alaska's waters with locals and visitors alike. Alaska boasts some of the most stunning cold-water freediving in the world, and whether you're looking to spear a world-record king salmon, or just want to see what's over that ledge beneath your boat, some of the most stunning underwater experiences in the world are just one breath away!
First off, we love diving in Alaska, and will unashamedly encourage you to pursue your full certification locally. That said, we understand that sometimes it's easier to finish your certification while on vacation, or in a way that fits your schedule. Which brings us to the two options that you can become a diver!
Level 1 Freediving: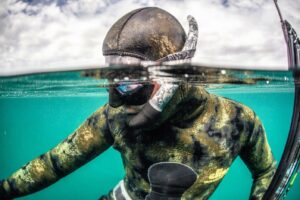 Level 1 Freediving introduces divers to their first exposure to the beauty of Alaska's oceans and freshwater lakes. Experiment with perfecting your kicks and technique, learn basic rescue techniques and team communication, and start exploring today! This program provides you with the training and knowledge required to safely freedive with a buddy in open water environments to depths of 20 meters. You will earn the PADI Level 1/Freediver certification after completing this program.
Freediving gear is incredibly personal, and will stay with you throughout your freediving career while you explore underwater. Because of this, divers enrolling in Level 1 courses should begin considering purchasing their Total Freediving Equipment, so we can train together in your gear that you'll be using when we go diving outside of class!
Required materials: PADI e-learning materials, Total Freediving Equipment (mask, snorkel, wetsuit, fins, weight and weight belt).
Tuition: $599
Materials: $95
Personal Items Needed to Own: Full Exposure protection for Alaska, fins, mask, snorkel, and weight belt
The Fine Print
As for the legal-ese stuff we wish we didn't have to say, but unfortunately do: tuition payment is required at time of enrollment, and may be cancelled no less than one week (7 calendar days) in advance. Any cancellations with less than five business days become non-refundable, as our instructors and staff plan courses around enrolled students, and many courses require a minimum number of divers to run.
If you are unable to attend a course for any reason, please let us know as soon as possible, and we're happy to reschedule. For no-call, no-shows, or last-minute cancellations, tuition is non-refundable. For our full cancelation and rescheduling policy, please check here.
Exceptions vary from course-to-course, so please mention any potential scheduling conflicts when enrolling, so we can work around them for you!
Please note: If you don't see the class you're looking for, feel free to contact us and arrange a course that fits your schedule! We offer a huge variety of courses, and our instructors can teach every PADI speciality (and even a couple that we've made ourselves)!
Contact Us to book a class today!