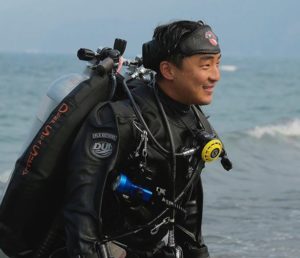 Want to stay warm? Want to extend your scuba diving season? Then dive dry. A drysuit seals you off from the water and keeps you comfortable, even in surprisingly cold water. There is incredible diving in the world's cooler regions and in some areas, conditions are even better in colder months. Becoming a drysuit diver allows you to expand your boundaries and dive more places, more often.
If you're at least 10 years old and certified as a PADI  Open Water Diver or higher, you can enroll in the Drysuit Diver course.
The first thing you'll discover is which drysuit style and accompanying undergarments are right for you and the diving you'll do. Then you'll learn how to take care of your drysuit. During two dives, in addition to a confined water dive, you'll practice:
Putting on and taking off your drysuit with minimal assistance.
Mastering buoyancy control using your drysuit.
Dive safety procedures when using a drysuit.
Drysuit Diver courses come standard with our Open Water courses. If you're already Open Water certified or beyond, but not Drysuit certified, it is a standalone class.
The course takes place over two days; one day in the pool, and one day in open water.
Tuition: $299.00*
Materials: $58.70
Rental: $125.00
*If you're doing full Open Water with us, you receive all of the above absolutely free, as a part of your Open Water tuition.
Please note: The Drysuit course is a fun and challenging experience, and it absolutely will make you a better diver. Speaking purely from an equipment and weight perspective, we have found that children under the age of 12 struggle to manage the additional weight of the equipment required to dive in a drysuit. This doesn't mean that we can't certify children 12-and-under in Drysuit, simply that it's uncommon. We have had very petite 10 year-old kids crush the class; we have had 15 year-olds that couldn't even lift their kit. It's case-by-case.
The Fine Print
As for the legal-ese stuff we wish we didn't have to say, but unfortunately do: tuition payment is required at time of enrollment, and may be cancelled no less than one week (7 calendar days) in advance. Any cancellations with less than five business days become non-refundable, as our instructors and staff plan courses around enrolled students, and many courses require a minimum number of divers to run.
If you are unable to attend a course for any reason, please let us know as soon as possible, and we're happy to reschedule. For no-call, no-shows, or last-minute cancellations, tuition is non-refundable. For our full cancelation and rescheduling policy, please check here.
Exceptions vary from course-to-course, so please mention any potential scheduling conflicts when enrolling, so we can work around them for you!
Contact Us to book a class today!