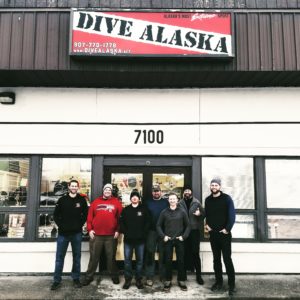 It's the most common question for a diver visiting a new shop: "Where ya go diving around here?" Unless you're traveling to a resort destination, and you can giant stride out of your hotel door into the ocean, divers often trust local shops to point them in the right direction.
For Dive Alaska specifically, this can get a bit tricky. Despite the fact that Anchorage (where our shop is located) is surrounded by water, the unfortunate truth is that none of that water is diveable. Cook Inlet is silt-filled and milky, the tidal exchange is one of the largest in the world, and the currents and wind are pure hell. It's incredibly dangerous, and even commercial divers for highly respected outfits such as Global Diving or American Marine hate working in Cook Inlet.
So, the question remains: where do you scuba dive in Anchorage?
The short answer: you don't. The long answer: world-class diving is accessible year-round and it's never longer than a two-hour drive.
Smitty's Cove, Whittier
Smitty's Cove (or "Smitty's", for locals) is a short 40-minute drive from Anchorage, and passes through North America's longest underground tunnel. A protected marine park with a rich history dating back to World War 2, Smitty's is home to a slew of WW2 wreckage and industrial slag, NOAA reef installations, sunken cranes and planes, and vibrant marine life that thrive in all the aforementioned habitats.
Through local community efforts (including those of Jerry and Lisa Vandergriff, who were instrumental in helping establish and protect Smitty's), this cove has remained a staple as Anchorage's go-to winter dive training site, as well as a small boat launch for fisherman, kayakers, stand-up paddleboarding, and more.
A word of caution: Smitty's becomes incredibly difficult to dive beginning late May and extending until early September, due to runoff from the stream that feeds into the cove. The rest of the year, it's almost a guarantee that you can enjoy some excellent shore diving a stone's throw from Anchorage.
Resurrection Bay, Seward
Every year, tens of thousands of tourists venture out into Resurrection Bay on marine site-seeing tour boats to catch a glimpse of breaching humpback whales, orcas, honking stellar sea lions, dall porpoise providing escort to brilliant blue glaciers and mountains that make Lord of Rings landscapes seem boring in comparison.
Beneath these tour boats, a different kind of tourist quietly enjoys some of the most outstanding diving in the world.
A two-hour drive from Anchorage, Seward provides the entrance to Resurrection Bay for Anchorage divers. The diving option are literally (not figuratively) endless, and the diving is insanely varied, from plunging walls decorated with sunflower stars, to looming pinnacles covered in glowing plumose anemone, Resurrection Bay represents some of the best local diving that's accessible for someone day-tripping from Anchorage.
As for dive sites, there are three quick and easy options available.
Book a dive trip with Seward Ocean Excursions, and enjoy a pleasant boat ride to a site that fit's your idea of an awesome dive. Whether it's a shallow boulder field or a technical dive, Seward Ocean Excursions can get you there comfortably. Non-diving buddies are welcome to tag along and enjoy the sites!
Shore dive in front of the Alaska Sealife Center and stop in afterwards to learn more about what you just saw in the wild! This site is accessible via two separate entry points, neither of which are clearly evident to a new divers. You can either embark from the Sealife Center parking lot and cautiously navigate your way over the rocks, or you can drive past the Sealife Center itself, and pull off just before the bridge.
Take a water taxi to the Fox Island Barge. This is one of the more affordable options for Anchorage divers, as companies such as Miller's Landing Water Taxi can get you there and back for an incredibly reasonable price. An ex-Navy barge, Y-754 caught fire, was beached, and subsequently pulled back into the ocean in 1950, and today provides itself as a popular dive site, home to rockfish, massive sea cucumbers, and greenling. It's also a great place to pitch a tent, camp, and dive for a weekend.
Matanuska Lake, Palmer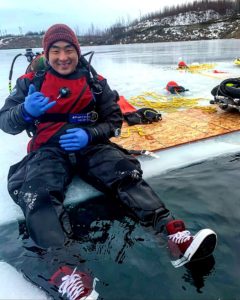 This is the point where our recommendations get a little more unconventional.
Matanuska Lake is a 40-minute drive from Anchorage, and represents the closest (and cheapest) dive site for Anchorage scuba diving. Home to arctic char, rainbow trout, and fresh-water sponges, Matanuska Lake is clean, fresh, and easy. There isn't as much to see, and the bottom is composed entirely of a fine glacial silt that builds up quickly the deeper you get, but if you just need to go diving after a long day at work, Matanuska Lake is your ticket.
It goes without saying, but being that Matanuska Lake is a lake, in Alaska, it's undiveable in the winter. This isn't due to the ice buildup (because we love ourselves some ice diving!), it's because the park itself is gated and shut down.
Hidden Lake, Kenai
Part of the larger Skilak Wildlife Recreation Area, Hidden Lake offers some of the better lake diving for Anchorage scuba divers. A 2.5-hour drive from Anchorage, scuba divers in Hidden Lake have the opportunity to see rainbow trout, fresh water mussels, and even beavers!
Sand Lake, Anchorage
Not much to say about Sand Lake. It's a local lake, and the water won't make you sick. It's water, with a max depth of 40 feet, and thanks to an underwater spring that feeds into it, it's always cold. The visibility sucks, and we usually regret diving in it. However, it's a five-minute drive from the shop, and it's scuba diving in Anchorage.
For that reason, it get's a C- rating from us. We probably dive it two or three times a year, just because of its proximity.
Everything Else, Alaska
To be frank, this is a short list. The amount of scuba diving you can do based out of Anchorage is ridiculous; you just might have to drive to get there, or get creative. For summer 2019, Dive Alaska has four more sites that we intend to dive and explore within a two-hour radius, and by the time summer is here, that list will have probably grown to a seven or eight.
That's the beauty of scuba diving in Alaska and operating out of Anchorage—everything is accessible, and there is so much left to explore underwater. Alaska is one of the few places remaining in the world where someone with a laid-back attitude and the right set of eyes can legitimately discover new, virgin dive sites, that no other human has ever seen.
And if that doesn't make you want to go diving, along with what we've already mentioned, we don't know what will.
Let's go diving!