In cooperation with DIVE N60 and on behalf of Dive Alaska Inc., we are offering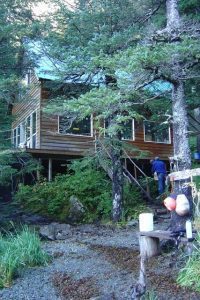 a summer solstice dive trip this summer! Dates are June 16th- 21st 2013. This trip will consist of 5 days of boat diving in Resurrection Bay, one day of sightseeing, and 5 nights accommodations in a cabin in Kayakers cove. Each day of diving will include 2 dives at various sites in Resurrection Bay, and will culminate in a dive on summer solstice, June 21st at the choicest local site. Boat fees, ship-to-shore transportation, and air tanks are included. Gear rentals not included, but available at an additional fee. Each day will include a pick up at the cabin by our dive boat "Bottom Time", two dives with a lunch between dives. By afternoon, we will drop you back off at the cabin for an afternoon of relaxation, hiking, kayaking, or just general adventure. Breakfast and Dinner will be your responsibility, but the cabin is well appointed with utensils, cookware, and dishes. We will provide a snack / light lunch while you're on the boat between dives. As this trip continues to evolve, details might change. Please contact us for the latest update.
We also offer hostel-style accommodations in the main lodge, in the loft area. You'll need to bring your own sleeping bag/bedding, or you can rent bedding from us. Dorm style accommodations include the use of the kitchen, dishes, and utensils. You provide your own food and beverages. There is no running water, so pack in your own to supplement the rainwater collection. The "facilities" are truly rustic Alaskan style. The restroom is an "outhouse" but has the best view around! There is a wood-fired sauna for your enjoyment and relaxation in the evenings. Although every effort will be made to assure your comfort and safety, this is wild Alaska! There are black bears in the area which are nice to view from a distance, but use caution when venturing out for your hike. Making noise is one of the best ways to avoid unexpected bear encounters
The cost of this trip is $1230 (assuming we get 10 people) and includes 5 days of 2 boat dives each day, and 5 nights at Kayakers cove cabin.