Where:
Smitty's Cove (or "Smitty's", for locals) is a short drive from Anchorage, and passes through North America's longest underground tunnel. It is a shore diving site located in Whittier, Alaska.
How: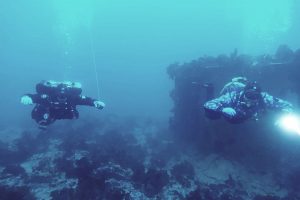 If you leave the shop in Anchorage and head south, you should reach the entrance to Whittier Tunnel in around 45-minutes, depending on traffic and if you stop in Girdwood to grab gas and a snack. The toll for the tunnel is $13, and it releases a single-direction every half-hour. The schedule can be found online. There are bathrooms available for changing on the Anchorage-side of the tunnel, as well as the harbormaster's office in Whittier.
Once you're through the tunnel, you need to pay for parking before you dive. The easiest way to do that is download the MacKay Pay app, and select Zone 9001. Parking is $11, and is good for a 24-hour window.
Why:
A protected marine park with a rich history dating back to World War 2, Smitty's is home to a slew of WW2 wreckage and industrial slag, NOAA reef installations, sunken cranes and planes, and vibrant marine life that thrive in all the aforementioned habitats.
Through local community efforts (including those of Jerry and Lisa Vandergriff, who were instrumental in helping establish and protect Smitty's), this cove has remained a staple as Anchorage's go-to winter dive training site, as well as a small boat launch for fisherman, kayakers, stand-up paddleboarding, and more.
A word of caution: Smitty's becomes incredibly difficult to dive beginning late May and extending until early September, due to runoff from the stream that feeds into the cove. The rest of the year, it's almost a guarantee that you can enjoy some excellent shore diving a stone's throw from Anchorage.
More about it can be read here.
For a complete(ish) list of local dive sites, click here!
If you're a visiting diver looking for more info, we've got you covered!
Looking for eternal honor and renown? Expedition Force!