WHERE:
On the South Bay of Perry Island, the Royal Wave Oyster Farm sells fresh oysters directly to the public in Prince William Sound.
HOW: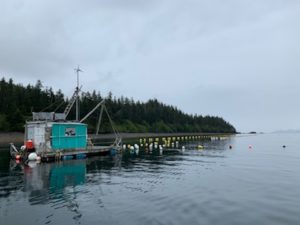 You definitely need a boat to make this run. This isn't really a dive site, although you can dive it. It is, however, a uniquely Alaskan experience to take advantage of, should you be diving in Prince William Sound.
You can charter a boat, or Dive Alaska can help make arrangements to do this dive. Plan on the same cost as any private boat charter ($300-$400 per person, or $1,200-$1,300 for a boat).
Or, make friends with people who have boats. We've found that works best.
The oysters are $15 p/dozen, and all you need to do is hit them up on the radio, and they'll have them waiting for you when your boat pulls up. Bring a knife, hot sauce, and lemons with you.
WHY:
If you have to ask "why" then this isn't for you.
For a complete(ish) list of local dive sites, click here!
If you're a visiting diver looking for more info, we've got you covered!
Looking for eternal honor and renown? Expedition Force!