Advanced Open Water Diver
So, you made it out of your Open Water class, and you're looking to go deeper, dive at night with no overhead light, or learn how to navigate your favorite dive sites like a pro?
Awesome! we've got the perfect class for you; it's PADI Advanced Diver! Usually conducted as a weekend of fun and exciting diving exploring Alaskan water, the Advanced course is for anyone looking to grow their skillset as a diver, serve as a thorough and exhilarating introduction to scuba diving in the beautiful waters of Alaska, or just looking to have a whole lot of fun.
Read on! It's a short summary, we swear…
WHAT WILL I LEARN?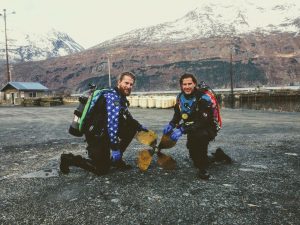 The Advanced Open Water course is one of our favorite to teach, and you get to learn about a little bit of everything! The required dives are Deep, Navigation, and Peak Performance Buoyancy, but other dives covered can include: Search & Recovery, Underwater Naturalist, Underwater Photography or Videography, Wreck, Night Diver, or many others.
We do our best to cater to the interests of the classes, so feel free to suggest whatever you're feeling! The worst we can say is "no", and that's usually only because of conditions, dive sites, or logistics.
You'll complete a minimum of five Adventure dives, and Knowledge Reviews for the relevant dives you're performing.
Course Tuition:
PADI Advanced Open Water course fees break down as follow:
Tuition: $399
Full Equipment Rental for Two Days (Weekend): $175
Advanced Open Water Diving Manual: $56.90
Advanced Open Water can also be combined with  Enriched Air (Nitrox) specialty for $99 + materials (around $70)!
However, we require Drysuit courses to be conducted separate from the Advanced Open Water course; if you're not already Drysuit certified, we will start there, and then move you into an Advanced class (and if you sign up for Drysuit and Advanced at the same time, you don't need to buy Drysuit course materials). This class is a ton of fun, and we do our best to make sure we're not throwing too many new concepts at divers at once.
Schedule:
We offer total flexibility with our schedules. Generally, Advanced courses are conducted in three or four days. 
For those who are already drysuit certified, the class involves getting squared away with your gear during the week, and then a Saturday & Sunday of good ol' fashioned scuba diving in open water.
For those are not already drysuit certified, the class involves a drysuit orientation at the shop (usually on a Thursday evening), followed by a pool orientation (usually on a Friday evening), followed by a Saturday & Sunday of good ol' fashioned scuba diving in open water.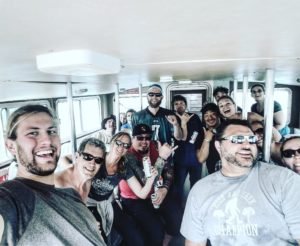 However, if you are a slope worker or have a schedule that will not allow you to attend one of our regularly scheduled classes, we're happy to customize a course for your schedule.
Call us or stop by with your schedule to discuss options and pricing for your own private scuba class.
In the fall/winter, we primarily use Whittier as a dive site. In the summer, we use everything.
Let's. Go. Diving.
Contact Us to book a class today!