Name:
Mike Kim, aka G.I. Bro #1
Position:
Bio: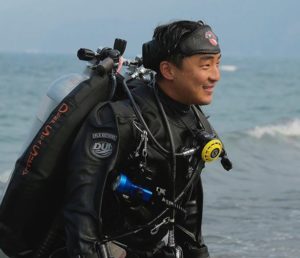 Michael Kim was born in Houston, Texas, and promptly abandoned at a local orphanage. But Mike was a cute baby, and was quickly adopted by a local couple who ran a vinyl record store. From an early age, music became an influencing factor in his life, and he became proficient on the piano, violin, and jaw harp.
Mike originally dreamed of going to Julliard, and making music his life, but a tragic fire at his parent's record store left his family destitute, and they were forced to leave the state. They settled down in Caulnch, New Mexico, and Mike took up petty crime to help pay the bills in high school. After multiple shoplifting violations, and taking meals from drive-thru's that he hadn't paid for, Mike was giving a choice by a local judge: join the US Army, or go to the clink. Mike chose the Army.
He majored in Civil Engineering at West Point, and is currently stationed in Alaska.
Diving Experience:
PADI Divemaster
GUE Fundamentals Rec Pass
Specialties:
Big fan of cats
Everybody seems to know him
Getting robbed
Can carry heavy things for long distances
Cool tattoos
Innate love of cold-water diving
Passed Fundamentals on his first try
Fun Facts:
Mike is getting transferred to Georgia in November. That's not very fun.
Read more about your Dive Alaska family here!