Where:
Matanuska Lake is part of the greater Kepler-Bradley State Recreation area in Palmer, Alaska.
How: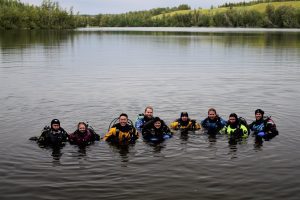 Matanuska Lake is a quick 40-minute drive from the shop in Anchorage. Heading out of town, you'll drive and take the Palmer exit on the Glenn Highway, and the parking lot is almost immediately on your left (it sneaks up on you, so watch for the sign).
Parking is $7 p/day, or if you have a State Parks Pass, you're all good. It's not a bad idea to have cash, as the caretakers may not be immediately present.
Once there, you'll want to park as close as possible to the picnic area/bathrooms, as the walk down to the entry point is a bit of a walk.
There are no motors allowed on the lake, so the only thing to worry about is the occasional kayak or fishing hook.
Why:
Matanuska Lake represents the closest (and cheapest) dive site for Anchorage scuba diving. Home to arctic char, rainbow trout, and fresh-water sponges, Matanuska Lake is clean, fresh, and easy. There isn't as much to see, and the bottom is composed entirely of a fine glacial silt that builds up quickly the deeper you get, but if you just need to go diving after a long day at work, Matanuska Lake is your ticket.
It goes without saying, but being that Matanuska Lake is a lake, in Alaska, it's undiveable in the winter. This isn't due to the ice buildup (because we love ourselves some ice diving!), it's because the park itself is gated and shut down.
The max depth of the lake is ~95 ft, with a wicked thermocline around 25 ft. Most of what's worth seeing is 30 ft. and above. If you're diving on a sunny day, do yourself a favor, and flip over while diving and look up at the sun filtering through the trees and tree-falls.
For a complete(ish) list of local dive sites, click here!
If you're a visiting diver looking for more info, we've got you covered!
Looking for eternal honor and renown? Expedition Force!