WHERE:
Directly across the bay from the city of Whittier lies the second-largest kittiwake rookery in Prince William Sound, along with a trio of large waterfalls pounding the water beneath it.
This site is accessible via boat/zodiac, and boats can be put in at Smitty's Cove.
HOW: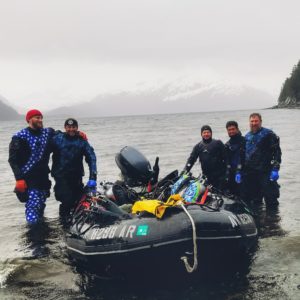 You definitely need a boat to make this run, but it's a quick, 5-10 minute run for a small boat in a relatively calm seas. Once you get there, you definitely need a boat tender, as beaching the boat or going ashore is very illegal.
You can charter a boat, or Dive Alaska can help make arrangements to do this dive. Plan on the same cost as any private boat charter ($200-$300 per person, or $700-$800 for a boat).
Or, make friends with people who have boats. We've found that works best.
WHY:
This is a wall dive on steroids. Drop in at the furthest waterfall, and work your way back towards Whittier. Up against the wall, the bottom angles down at a moderate incline, turning into a steep underwater canyon that terminates in a sheer cliff around the 100 ft. mark.
Past 130 ft. the bottom topography stops entirely, punctuated only by giant sea sponges. Once you get to that point, the cliff plunges down hundreds of feet into pitch darkness, and the bottom is beneath Poseidon's basement. Above 130 ft. is definitely the place to be on this dive, where you're treated to truly beautiful underwater topography.
Enjoy a diverse array of invertebrate life, nudibranchs, rockfish, brittle stars that compliment the stark underwater scene. It's easiest to use the wall as a reference for the entirety of your dive.
FOR A COMPLETE(ISH) LIST OF LOCAL DIVE SITES, CLICK HERE!
IF YOU'RE A VISITING DIVER LOOKING FOR MORE INFO, WE'VE GOT YOU COVERED!
LOOKING FOR ETERNAL HONOR AND RENOWN? EXPEDITION FORCE!