Name:
Joshua Braun
Position:
Shop Staff
Dive Guide
PADI Instructor
Swingin' Sultan of Sidemount
The Riddler
Bio:
Joshua Braun was born in Mississippi. He's told us the town, but we don't remember or care, because it's Mississippi. From a very young age, Josh showed a proclivity towards riddles, and other activities that rhyme with that. He attended college with a focus on IT, but after going scuba diving through a school program for the first time, he realized his true calling…. being on the receiving end of hand injuries involving edged objects. Despite that, he loved diving (and needed to complete the course in order to graduate), so he stuck with it, and managed to grind out his open water certification.
From there, Josh decided that rocks were cool. So, he spent a lot of time looking at rocks. Some even would say that he could stare at rocks until they got nervous and started to sweat…. and so Josh has spent a lot of time looking at wet rocks.
Josh's interview process was basically a long, one-sided conversation with Alex, where Alex repeatedly advised him against moving to Alaska to "work in this nightmare scuba warehouse." After almost 30 minutes of explaining to him that making that type of career decision would be "nothing short of catastrophic to your mental well-being and family life," Josh asked when he could start.
Diving Experience:
40 cold-water dives
140 logged dives
PSAI Full Cave
PSAI Advanced Nitrox
50 logged freediving sessions
Advanced Freediver
PADI Instructor
GUE Technical Diver 1
Specialties: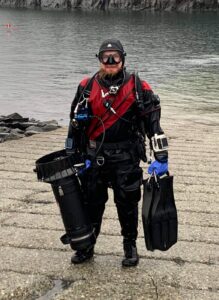 Basically, like, a technical instructor.
Taking abuse, both verbal, emotional, and spiritual.
Josh actually logs his dives and doesn't inflate his numbers, which is exceedingly rare for a dive professional.
Sidemount. If you don't believe us, he will tell you.
Career decision-making.
Can sit motionless for long periods of time, like a lizard.
Questions.
Can typically use sharp objects without getting hurt.
Little cakes and other gas station confections.
In constant wonder at relatively mundane foods, like someone who was born deaf getting their first hearing aids.
Fun Facts:
Josh never actually lost his baby teeth; the baby teeth just grew into adult teeth. It was widely discussed in a number of medical dental journals at the time.
Josh has all 10 fingers and toes, but only about a third of his hair. He likes to tell people that he's not balding, his hair just moved south for the winter, which is why his beard is so bushy.
Josh has never ridden a horse, although he once got kicked in the chest by a mule.
Read more about your Dive Alaska family here!