Name:
Jeremy Lilly
Position:
Shop Staff
PADI MSDT Instructor
Public Safety Director
Bio:

Not much is known of Jeremy; he's an enigmatic figure around the shop, even for those who have known him for years.
What we do know: Jeremy comes from Appalachia; his father was a coal miner, and his mother was too. In high school, Jeremy lettered in basketball, wrestling, and knife-play. He could often be found tearing through mountain roads in "borrowed" police cruisers, and showed a natural resourcefulness for getting out of handcuffs that is considered astonishingly rare. After high school, Jeremy joined the military, and that's where things get murky.
We can say with relative certainty that he served with distinction in the Army and Air Force, and specialized in extracting friendly forces from behind enemy lines. For many of those years, Jeremy functioned as a combat medic, from land, sea, and sky.  There isn't anybody at Dive Alaska better equipped to handle an emergency first response scenario, and there isn't anybody at Dive Alaska more capable of creating one, if they wanted too.
Post-military, Jeremy is the president of the Alaska Search, Rescue, and Recovery Team, an all-volunteer team that provides water rescue and recovery to places in Alaska that lack public safety services.
Jeremy learned to dive in 1980, when diving was more "underwater assault and battery" and less "scuba diving". He has not carried this attitude forward in his teaching style, and is one of Dive Alaska's most experienced divers and instructors.
Diving Experience:
6,000+ logged dives in the last 40 years
Instructor since [REDACTED]
PADI MSDT Instructor
GUE Technical Diver 2
GUE Cave Diver 1
Specialties: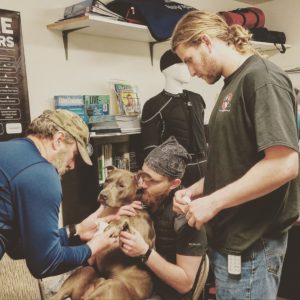 Advanced Ice Diving Instructor
Can cut through almost anything with a spoon (we're not kidding)
Emergency First Response
Escape & Evasion tactics
Survival training
Mountain rescue and training
Appears to be immune to weather
Fun Facts:
"Fun" is really a loose-word with many interpretations…
Jeremy once fashioned a pair of fins out of pine boughs and driftwood, and dove with them for the next three months, because, in his words, "why not?"
During a particularly stormy camping trip last summer out at Fox Island, Jeremy was teaching a Rescue class in rough surf. When he reached the breaking surf-line, he glared at the water and whispered "Do you mind?" According to witness reports, the surf flattened out almost instantly.
Read more about your Dive Alaska family here!