Name:
J.D. Stimson
Position:
PADI Freediving Instructor
Shop Staff
Ferret Wrangler
Pitbull Swim Coach
Bio:
J.D. Stimson was born in Cordova, Alaska, aboard a commercial fishing vessel that was forced to return to port when his mother, a salmon picker, went into labor. With the fishing season being in full-swing, his mother didn't have time for the typical infant-mother experience, but did what any caring parent would do, and abandoned J.D. to a den of beavers.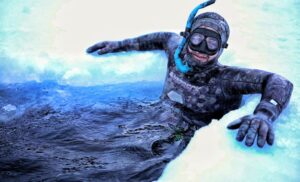 It was in this environment that J.D. spent the first months of his life, surrounded by the furry aquatic rodents he would grow to love. Even though his mother came back to retrieve him when she got off the boat, every fishing season, he would return to live with his unconventional wet nurses, stay in their lodges, help them catch and eat raw fish, and drag logs around to help them dam up waterways.
The water has always had a strong hold over J.D., so it made perfect sense for him to move to Anchorage and pursue a career in HVAC. While he thought that he would be working as a contractor, in reality, his role was more of Dickens-esque 19th century chimney sweep, complete with overalls and cockney accent.
He came into Dive Alaska barefoot and covered in soot, and hasn't left since.
Diving Experience:
175 cold-water dives
300 logged dives
400 logged freediving sessions
PADI Freediving Instructor
GUE Technical Diver 1
GUE Cave 1
Specialties: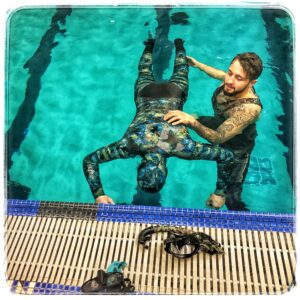 Smiles
Ferret Wrangling
Duck Work (not "duct"; he likes aquatic waterfowl)
Career decision-making
Tattoos
Can hold his breath a crazy long time
Trucker hats
Anchoring ladders to walls
Fun Facts:
J.D. rides a Harley, but whenever he talks about his motorcycle, he always refers to it in the third person as an extension of himself. For example, "Man, I did not like that gas I put in my tank today." and "My tires are a little flat today." This wouldn't be weird, but if you ask him if's he's talking about a car or a motorcycle, he just responds "I am speaking about me."
J.D. once got kissed by an otter. Like, full-whisker, right on the lips.
J.D. has nice feet. People tell him all the time.
Ron's daughter, Maya, would prefer if J.D. was her father. She's only 8 weeks old, so that's saying something.
Read more about your Dive Alaska family here!