THE DAK PREFACE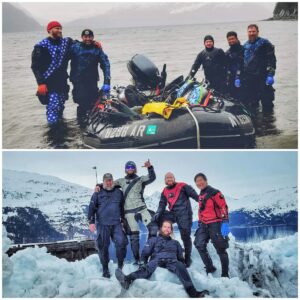 GUE Tech 1 courses are the "a-ha" moment for many divers. As divers progress from recreational, open water diving, and into the world of overhead, planned decompression diving, skill refinement, awareness, stability, and teamwork become even more important for safe, successful, and exciting exploration of some of the deeper sites that diving has to offer.
If you haven't figured out yet, most of this course breakdown is a template taken from GUE. All of the relevant information is below, along with some course-specific info for Tech 1 classes at Dive Alaska. We offer simple, all-inclusive pricing for the course itself, if taken while based out of the shop in Anchorage.
Looking to skip out on cold-water diving and do Tech 1 somewhere warmer? No problem! We're happy to discuss travel options for having a warm-water, dive training vacation. We have friendly shops and charters from Los Angeles, to Cozumel, to Florida, and are happy to discuss setting up a class somewhere outside the state.
That said, if you have any questions, please don't hesitate to reach out, and….
Let's. Go. Diving.
WHY TAKE THIS COURSE?
Recent increased ocean exploration at greater depths has revealed a variety of hidden treasures, including deep pristine reefs, well-preserved wrecks, and valuable historical artifacts. However, venturing deeper bears inherent risks that can be mitigated with proper training, knowledge, teamwork, and gradual experience.
The GUE Tech 1 course prepares ambitious divers to begin their path to technical diving safely, with confidence, and with a base of solid skills and knowledge. This course also paves the way to GUE rebreather courses, to advanced technical GUE training, and to GUE project and exploration diving.
WHO IS IT FOR?

The Technical Diver Level 1 course requires a certification at GUE Fundamentals level with technical certification requirements and a minimum of 100 experience dives.
Divers embarking on a technical path must be prepared to handle emergencies and execute dives during which they will not be able to make a direct ascent due to decompression obligations.
This type of diving requires an increased level of physical fitness, as there is more equipment to handle, and decompression stress is increased.
WHAT WILL I LEARN?
Course outcomes include, but are not limited to: cultivating, integrating, and expanding the essential skills required for safe technical diving; identifying and resolving problems; using the double-tank configuration and addressing the potential failure problems associated with doing so; using nitrox for acceleration and general decompression strategies; using helium to minimize narcosis; and applying single decompression stage diving with respect to decompression procedures
Applicants for a GUE Technical Diver Level 1 program must:
Be a minimum of 18 years of age.
Be physically and mentally fit.
Be a non-smoker.
Be able to swim.
Obtain a physician's prior written authorization for use of prescription drugs, except for birth control, or for any medical condition that may pose a risk while diving.
Have earned a GUE Fundamentals – Technical certification.
Have a minimum of 100 logged dives beyond autonomous entry-level scuba diver.
For a full list of course prerequisites, click here.
The Technical Diver Level 1 course is normally conducted over six days. It requires a minimum of seven dives (including three trimix experience dives) and at least 48 hours of instruction, encompassing classroom lectures, land drills, and in-water work.
Dive Alaska offers Tech 1 courses through resident GUE Tech 1 instructors. Having an instructor in-house means that we can offer more flexible training that fits your schedule, while eliminating the need to fly in instructors from out-of-state. It also means that any additional training that takes place is offered with regular frequency.
Instruction tuition for Tech 1 is $2,500. This includes tuition, classroom and in-water instruction, tank rental, 32% nitrox, and trimix and decompression gas used during a standard, six-day course. Gear rental outside of tanks, food, lodging, transportation and dive site access fees are the responsibility of the individual diver.
Tuition is due at time of booking, and is non-refundable 45 days out. Full course payment is due 30 days prior to class, and is non-refundable upon payment. In the event there is a cancellation or you are unable to attend a course, all efforts will be made to fill the vacant spot, but this is not a guarantee that the spot will be filled.