Where:
The Fox Island spit is out in Resurrection Bay, Seward, Alaska.
How: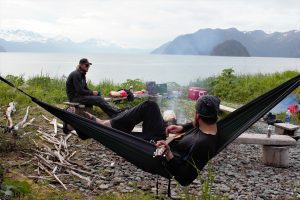 Seward is a 2.5 hour drive from the shop in Anchorage, and then you'll need to figure out a way to get to Fox Island. This is one of the more affordable options for Anchorage divers, as companies such as Miller's Landing Water Taxi can get you there and back for an incredibly reasonable price ($60-$75).
You can book directly through their website, or use one of the many other water taxi or boat charter services available in Seward, but the boat ride out takes around 40 minutes.
Once you're on the island, you are literally "on an island" and shouldn't expect to have any support until your scheduled pickup arrives. There are no toilets or facilities on the island, and divers need to be self-sufficient for the duration of their stay, including food, water, toilet paper, and exposure protection. You should also be mindful of the tides, specifically in how it relates to where your gear is.
After all, this is Alaska.
Why:
An ex-Navy barge, Y-754 caught fire, was beached, and subsequently pulled back into the ocean in 1950, and today provides itself as a popular dive site, home to rockfish, massive sea cucumbers, and greenling. It's also a great place to pitch a tent, camp, and dive for a weekend, and even has enough to do for your non-diving buddies… especially if you bring a paddleboard or kayak!
This video can help orient you to the barge, specifically right at the end when Ron and Alex surface. If you notice the tuft of trees/campsite, you can find the barge. It starts right below the waterline on a straight path from the campground path that's tucked into those trees. The barge is laying parallel to shore, with the stern being directly in line with the campground path in 10 ft. of water, and the bow resting at ~80 ft., down towards the end of the spit (due east).
Word of warning: the Fox Island barge is old, and as such, the structural integrity is completely unpredictable. It may seem enticing, but do. not. penetrate. this wreck. There's is nothing inside it worth dying for, and every day it becomes more unstable. It is perfectly safe to dive, and one of our favorite summer shore diving sites, but we strongly encourage divers to stay on the outside of it.
For a complete(ish) list of local dive sites, click here!
If you're a visiting diver looking for more info, we've got you covered!
Looking for eternal honor and renown? Expedition Force!