The "What, When, Where, Why, and How" for Eight's Takeover of Dive Alaska
What: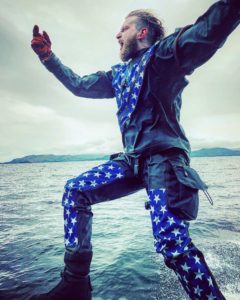 Eight's Takeover of Dive Alaska is a lunatic endeavor for only the most intrepid divers, and will be whatever you want it to be: from spearfishing, recreational and technical diving, to exploration, and ice diving.
We will have access to a minimum of two boats (and more likely, three) and all of Resurrection Bay available, one of the most stunning cold-water diving destinations around. Whatever type of diving you're looking to do, just say the word, and the boats can get your there.
Each boat is capable of holding six single-tank divers, or four divers in a T1 configuration, and can run two trips per day (morning and afternoon). Boat trips are two-tank single dives, or a single, longer technical dive.
If the third boat is indeed available (we're waiting to see if they're good on their word), then we'll be able to support almost 20 boat divers on any one trip.
When:
January 28th-31st, 2020
Working schedule is as follows:
January 26th: Want to show up early and get first dibs on tanks? Well, today is the day for you. Come early, and watch Guy's T1 students trudge out of the water with their thousand-yard stare at our go-to winter dive site in Whittier. Maybe sneak a dive in.
January 27th (or earlier): Arrive in Anchorage. Pick up any tanks, weights, rental gear, have a beer at the shop, get kit squared away, etc.
January 28th-30th: Drive down to Seward (either night before, or morning of) and let's go diving. With two potential boat trips p/day, and solid shore diving, all of Seward is a dive destination in the winter.
January 31st & February 1st: Ice-diving course(s), for anybody who wants a great photo-op, and doesn't realize that ice-diving is really just an extension of masochism.
Where:
Dive Alaska in Anchorage is the hub. There will be a daily shuttle running to-and-from Anchorage to exchange any tanks people need while in Seward and grab any necessary diving-related provisions.
And by shuttle, we mean shop monkey in a pickup truck driving back-and-forth, leaving when the last boat gets back in the afternoon, and returning in the morning. All other transportation is up to you.
Boat diving will take place in Seward, a 2.5 hour drive from Anchorage.
Ice-diving will take place at a lake in the greater Anchorage area, a 45-minute drive from Dive Alaska.
Divers are responsible for their own lodging and transportation of themselves and their gear to-and-from Dive Alaska, Whittier, and Seward, and whatever lake we end up doing ice-diving in.
Why:
Because it's badass and a ton of fun.
How: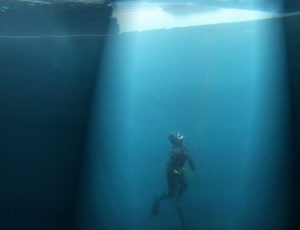 Eight and GUE Seattle have been beyond good to our Dive Alaska family (except you, Alex; you're responsible for all the scooters we're buying that we want, but don't need), and we want to return that hospitality.
For anybody coming up for this trip, you won't pay for any tank rentals; only the gas you breathe.
Cost breakdown is as follows:
Boat charter trip: $195 per trip (max of two p/day)
Ice-diving course: $399 (discounted from our regular $599 tuition)
Shop-monkey shuttle: Free
Tank rental: Free
Psychological trauma: Priceless
Therapy: Probably pretty expensive
Individual divers are responsible for:
Lodging
Transportation
Meals
Rental equipment outside of tanks
Enjoying some of the best cold-water diving around
Exploring virgin dive sites
Tipping boat captains and deckhands (they're independent of our shop)
Slaughtering fish
Taking great pictures
Hyping up our shared community of cold-water GUE divers
All payments can be made to Dive Alaska, and should be paid at least 30 days in advance. Spots and available tanks are on a first-to-pay, first-to-play basis.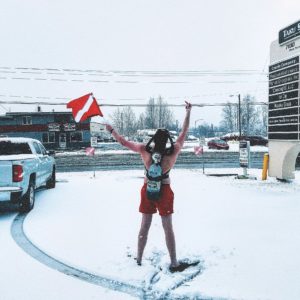 All payments are considered final and non-refundable 30 days in advance. Any weather-related cancellations are fully-refundable.
Should a diver need to cancel at any point, all efforts will be made to fill the vacant divers spot, and in doing so, offset the balance they have paid toward the trip. However, this is not a guarantee that a replacement will be found.
Please contact Dive Alaska at info@divealaska.net with any questions, or call (907) 770-1778.
If the person who answers the phone has no idea what you're talking about, ask for Ron, Alex, or Nick. If they say Ron or Nick isn't available, they're probably running interference, so feel free to threaten or insult them.
Or just say you're with Guy's crew, and they'll know what you're talking about and get you sorted.
Let's. Go.
Ron's Tips:
Ron's Tips are how Dive Alaska's shop manager, Ron, would plan this trip if he was in your shoes.
Suggested Itinerary:
Arrive on January 26th/27th, pick up a rental vehicle capable of handling your dive kit, and grab a hotel/AirBnb somewhere around Dive Alaska. Swing by the shop, and grab tanks, weights, etc.
Either drive down to Seward on the 27th, or early on the 28th, and grab a hotel or AirBnb. Get settled, or just go diving, and figure it out afterwards.
January 28th-30th: Scuba, scuba, scuba.
January 30th: In the evening, drive back to Anchorage, and do an ice-diving orientation at Dive Alaska.
January 31st: Actually go ice-diving, because you're a nut-case.
Past January 31st: Take advantage of some world-class skiing at Alyeska, hang out and go diving with the locals over the weekend, explore Anchorage, fly home, etc.
Accommodations:
In Anchorage, any decent airport hotel is going to land you in the vicinity of the shop.
In Seward, you can either coordinate with your buddies to rent a house through AirBnb (which is probably what I would do) or you can grab a room at the Breeze Inn for relatively cheap. Just ask for a ground floor room you can pull your car up too (for bringing gear inside each night).
Pre-Planning:
If you haven't been to Alaska before, think of it as an island on its own. Specifically in regards to:
Heater packs: Shipping lithium is tricky up here. If you want to run heated undergarments, ship batteries in advance of arrival, and we're happy to keep them at the shop until you show up.
Support for CCR: For all of you thinking about bringing your rebreathers… please do. Our local technical diving community is relatively small, but growing rapidly, and showing our local divers the advantages and possibilities that the CCR-world opens up is something that's been on our core-group's mind. That being said, please plan well in advance. We're happy to help with anything from bailout bottles, to sorb, etc, we just need the time to get it. Or, feel free to ship it, and we'll hold onto it for you.
Explore: On that note (and especially for you CCR divers out there), Resurrection Bay is a beautiful body of water, and offers opportunity to do dives and explore sites that nobody ever has before. There are sites in the 100-170 ft. range that divers have talked about dropping onto for decades, but they didn't have the training, timing, experience, or support to pull them off in the winter. We have that now. If that doesn't get you excited, go see a doctor.
Build your own adventure: This is specifically in regards to gas planning, but check out the schedule, and get an idea of what types of diving you want to do. Then, let us know, so that we can have gas on hand. Getting helium can be tricky, and knowing what types of diving you're planning helps us plan accordingly.
Ballin' on a budget: Seward has some awesome shore diving, and there are some great shore-diving sites in the Anchorage area, should you want to take advantage of it.