Have you always wondered what it's like to breathe underwater? If you want to try scuba diving, but aren't quite ready to take the plunge into a certification course, Discover Scuba Diving is for you. PADI dive shops offer this program either in a pool, off a beach or from a dive boat. You can try scuba close to home or while you're on vacation at a dive destination. While not a scuba certification course, Discover Scuba Diving is a quick and easy introduction to what it takes to explore the underwater world.
To sign up for a PADI Discover Scuba Diving experience, you must be at least 10 years old. No prior experience with scuba diving is necessary, but you need to be in reasonable physical health. Are you ready to try it out? Swing by the shop today for the experience of a lifetime!
Discover Scuba Diving classes start at $150, and can be conducted year-round. These are great activities for families, birthday parties, or folks who are trying to decide if diving is for them.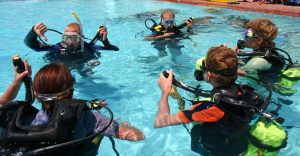 Contact Us to book a class today!