Name:
Brian Johnson
Position:
Bio:

Brian Johnson was born in Billings, Montana in 1978. The son of a Methodist pastor and atheist mother, Brian grew up in a world where ideologies at war with each other were overshadowed by the greater force of Love. As such, Brian is pretty easy to get along with.
Brian fell into a creek when he was 7-years old, and drowned before he could be rescued. He was resuscitated by his Boy Scout Troop Leader. As with many traumatic childhood experiences, Brian decided that he loved water, and would go on to become a swimmer, diver, and eventually, big-time scuba guy.
Brian Johnson is a big fan of the color blue, and will often cut-off his airway until he "gets blue in the face" just for funsies. He also enjoys blue-related puns, and can always be counted on for those timeless classics, such as "Why was the ocean so blue? Because the island never waved back." or "Roses are red, violets are blue, I'd get in the van, if I were you…"
Editor's note: if you can't tell, all of these profiles are satire, and have no basis in reality. Except this one. Everything in this one is true.
Diving Experience:
300 cold-water dives
500 logged dives
PADI Instructor
GUE Fundamentals
Specialties: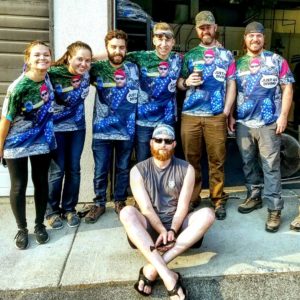 Thinks he's a real funny guy
Loading and unloading planes
Mustache
Looks good in bomber jackets
Punctuality
Screenprinting
Legal research and history
Fun Facts:
The United States Air Force frequently strands Brian in exotic parts of the globe for extended periods of time, without warning.
Brian has an awesome collection of onesies and rash guards that are equal parts appalling/awesome.
Brian is the sole archivist of a forgotten conversation between two members of Dive Alaska's instructional staff, where a discussion on decompression mechanics escalated into a completely unrelated argument, culminating in the phrase "I'm going to lick your [CENSORED] teeth."
Read more about your Dive Alaska family here!