Name:
Brian Gates
Position:
PADI Divemaster
Drone Boy
Bio: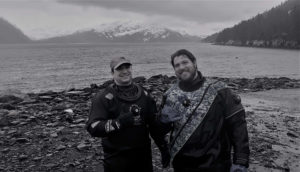 Brian Gates and his family came to the United States as many desperate families do: illegal immigration. Late one autumn night, Brian's parents wrapped him a shawl, and with only the clothes on their back, fled Saskatchewan for a new life in Montana.
Brian naturalized as a US citizen under asylum laws, and now speaks American without any accent whatsoever. Brian has worked in a number of different professions; most of them have involved emergency first response. He was a EMT for a number of years, and transitioned into a firefighter for almost a decade, until falling victim to one of the cruelest firefighter pranks around: the greased up fire-pole. As he went to respond to a call-out, he plunged down the Crisco-covered pole, and his lengthy rehabilitation from the fall took him away from firefighting.
The insurance money from the incident allowed Brian to pursue his passion of woodworking and photography.
Diving Experience:
PADI Divemaster
GUE Fundamentals Tech Pass
Specialties:
Drones
Weirdly comprehensive knowledge of obscure topics (ie "dye-mapping groundwater, 1920's-era ships-of-war, hummingbird flight patterns, etc")
Can catch a hummingbird with chopsticks
"Punching up"
Working knowledge of what a "gradient-factor" is
Photography
LARP-ing
Ability to drive long distance without stopping
Fun Facts:
Brian serves as the Vice President of the Alaska Search, Rescue, and Recovery Team
Brian does more mid-week diving than anybody else at Dive Alaska
Brian doesn't own a DPV, but he once used the rim of a truck tire with a rope tied around it to simulate what it would feel like to point a DPV straight down, go entirely negatively buoyant, and hit the trigger.
Read more about your Dive Alaska family here!