Name:
Alex Fancher
Position:
Training Director
PADI Course Director
Lead Freediving Instructor
Repair Technician (kinda)
Shop Staff
Bio:

Alex and Ron share a last name, but grew up on different coasts; Alex hails from the wasted, rolling hills of North Carolina. He learned to dive when he was 13, and like all adventure sports Alex came across, he fell in love with it immediately.
Alex studied to be an accountant, which was the dumbest possible decision he could have made, seeing as a the outdoors have always inspired Alex. Kinda like that guy from Into the Wild. 
Alex was essentially shanghaied by Ron when moving to Alaska, as he was promised a job boutique mountain guiding in the Wrangells, and instead ended up in a classroom at Dive Alaska, without enough money to leave the state. He tries to make the best of his situation by mountain climbing, paragliding, hiking, freediving, and riding his motorcycle.
Diving Experience:
3,000+ logged dives in the last 15 years
Instructor since 2014
PADI Course Director
Freediving Instructor
GUE Technical Diver 2
GUE Cave Diver 2
Specialties:
Advanced Ice Diving Instructor
Freediving
Spearfishing
Apnea-training
Motorcycles
Beans, and their rich nutritional value
Paragliding
Can biologically process things most people would consider "not-food"
Approaches life with the same wonder and resourcefulness as a feral dog
Fun Facts:
When Alex got certified to teach diving, he was the youngest instructor in the world for three days.
Alex's condo is an area of Anchorage not unlike the world portrayed by the film Mad Max, where bandits breaking into the storage closest on his porch, on the third floor, is a legitimate concern. They apparently use grappling hooks. We're not kidding.
Alex's shop nickname is "Little Pig Boy" due to a genetic condition that allows him to smell truffles, not unlike the pigs used to harvest them.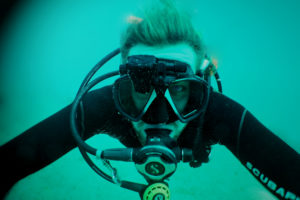 Read more about your Dive Alaska family here!