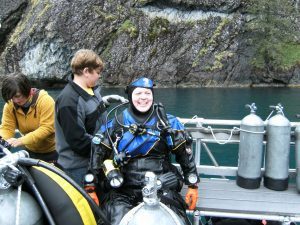 We can hardly contain our excitement for boat season! Our dive boat "Bottom Time" will undergo a facelift during the first two weeks on May! We'll be painting her hull, new bottom paint, and a little TLC topside where she's gonna really shine! By the third weekend in may, we're hoping to re-launch her to officially begin the 2013 season. We already have some exciting charters for this summer:
June 16th-21st a group from the UK are diving the 60 degree North parallel on summer solstice! We'll house them in kayakers cove, and will be offering a day trip to anyone who's interested in joining us on Wednesday June 19th.
July 5th-7th we're camping out at Kayakers cove for a 3-day diving extravaganza!
August 5th-8th 5-day trip to Montague Island for some spearfishing and diving pinnacles stacked with ling cod!
August 23rd-25th second open weekend at kayakers cove
July 6-18 2014 two weeks of snorkeling and diving with Salmon Sharks out of Valdez! (these two trips are full). We're considering doing this trip this summer as well so if you're interested in this exploration trip, let us know! Of course the weekends in-between these dates will all have day trips. We're looking forward to seeing you on the boat this summer!