WHERE: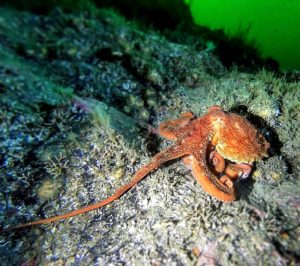 The Alaska Sealife Center is located in downtown Seward, Alaska, and the dive site is directly behind the building itself.
This site is accessible via two separate entry points, neither of which are clearly evident to a new divers.
You can either embark from the Sealife Center parking lot and cautiously navigate your way over the rocks, or you can drive past the Sealife Center itself, and pull off just before the bridge.
HOW:
The trickiest part of this dive is just getting into the water. In the winter, the pull-off before the bridge seems preferable to walk/crawl over icy rocks.
The dive itself drops off gradually, with most of the life being around the pilings and old sea wall (look for the rusted metal sticking above the water line).
WHY:
The sea wall behind the Sealife Center is home to a number of different invertebrate species, fish, sea birds, sea lions, and even the occasional Giant Pacific octopus!
However, the sheer number of shrimp you can see on a night dive here is both impressive and creepy. This is mainly a spring/fall/winter dive site, but a visit to the Sealife center while it's open can justify this dive site on it's own.
There's also a ton of wreckage from the '64 earthquake that devastated the area.
FOR A COMPLETE(ISH) LIST OF LOCAL DIVE SITES, CLICK HERE!
IF YOU'RE A VISITING DIVER LOOKING FOR MORE INFO, WE'VE GOT YOU COVERED!
LOOKING FOR ETERNAL HONOR AND RENOWN? EXPEDITION FORCE!