Name:
Perry Zemke
Position:
Bio:
Perry Zemke was born in Northern California, in a lush, green farming community. Perry has always felt a connection to the earth and his place in it, and followed that spiritual guide to Alaska.
Perry came into Dive Alaska after an experience with SNUBA in Hawaii, and was immediately hooked. He showed up the next day, drove his Harley through the front doors of the shop to the shock and terror of all the staff, and amidst the burning rubber and exhaust smoke, bellowed out "THIS SCUBA STUFF IS FOR ME!" Miraculously, the police were not called, and Perry enrolled in the next open water class.
Diving Experience:
PADI Divemaster
GUE Fundamentals
Public Safety Diving
Specialties: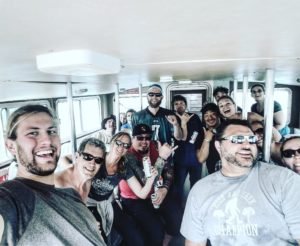 Motorcycles
Sweet tattoos
Spines, and a working knowledge on what they should and shouldn't do to the human body
Roofing work
Surviving long falls (we're talking like five stories)
Surviving in general
Model airplanes
Has all ten of his own fingers
Fun Facts:
Ron's go-to description of Perry is: "like a hardcore biker swallowed a Labrador retriever" due to his incredibly friendly personality, but intimidating appearance.
Perry has done custom work on his motorcycles that actually skirts the legal definition of "motorcycle" and pushes it closer to "meat missile."
Perry has more metal in him than the last Boston Dynamics robot.
Read more about your Dive Alaska family here!