Learn to dive! Classes start at $399. Your journey begins with PADI open water scuba certification. You have two options:
Referral: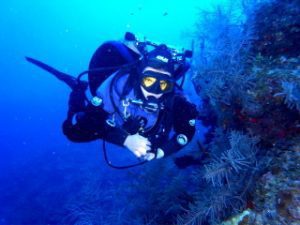 This option allows you to begin your training here in Alaska with evening or weekend classes which include classroom sessions and pool sessions. Once you have completed this portion, we "refer" you to a PADI instructor at your travel destination and you can finish your open water dives in paradise! The tuition for this course is $399 and does not include the price of student materials (approx. $145) or the "personal items" you will need to purchase such as mask, snorkel, fins and booties.
Full certification:
If you want to dive in Alaska, or just want to be already certified before your vacation, we can complete your open water dives here! This course is offered year-round, so no need to spend your vacation with your nose in a textbook. The tuition for this course is $699 and does not include the price of student materials (approx. $145) or the "personal items" you will need to purchase such as mask, snorkel, fins, gloves and booties.
Schedule:
We offer total flexibility with our schedules. Primarily, our classes are scheduled for two nights a week and last for about 4 weeks. If you are a slope worker or have a schedule that will not allow you to attend one of our regularly scheduled classes, we can customize a schedule just for you. Call us or stop by with your schedule to discuss options and pricing for your own private scuba class.
All SCUBA training is NOT created equal!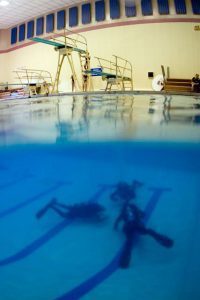 We believe that teaching someone to recreate on life support equipment in the most hostile environment in the world is a big responsibility. With this responsibility comes the need for longer classes, more instructor/student interaction, and a higher level of proficiency required for successful scuba certification. Our students pay for their training, but they EARN their certification!
If you are limited in time and would like to get some of your classroom work done online prior to meeting with us, PADI (Professional Association of Diving Instructors) can facilitate part of the knowledge development portion online.
Here's how "e-learning" works:
Click on the PADI logo below and a new browser window or tab will open to PADI's website. Select "Purchase an eLearning Course" to begin your studies immediately! Once you have completed the online portion, contact us to schedule the rest of the practical "hands-on" instruction and your pool sessions.

If you are looking to get fully certified in Alaska, you will join us for a weekend of diving in Resurrection Bay or Prince William Sound. If you only want to do the "referral" portion, you will complete the e-learning, the practical "hands-on" classroom and the pool sessions here. Then we will send you away with the necessary paperwork to be received by a PADI instructor at your destination. The instructor will complete your open water dives with you and issue the certification. IT'S THAT EASY!
Upcoming Classes
PADI
Please note: If you don't see the class you're looking for, feel free to contact us and arrange a course that fits your schedule! We offer a huge variety of courses, and our instructors can teach every PADI speciality (and even a couple that we've made ourselves)!
GUE
Fundamentals of Better Diving: TBA

This is a highly intensive diving course, and the first step to becoming a technical diver. If you are not familiar with this class, please read the course description here. If you are familiar and interested, the schedule is as follows:
Day 1: Classroom orientation and lectures
Day 2: Land drills and dives
Day 3: Land drills and dives
There are some equipment requirements specific to this class so if you are interested, please contact Ron Fancher at ron@divealaska.net or (907) 770-1778.
Please visit our other training pages to get an idea of our other training opportunities. Some of our specialized training courses include other agencies, some of whom are listed here:
GUE (Global Underwater Explorers)
Perhaps the agency with the highest and most rigorous standards of all, GUE is a non-profit organization whose mission is to improve the aquatic realm in the areas of education, exploration, and conservation.
Has it been awhile since you've been in the water? We offer a certification "Reactivation" from PADI. This is a quick refresher course to help you get re-acclimated to being underwater.

Contact Us to book a class today!