Name:
Cameron Miller
Position:
Global Underwater Explorers Instructor
Bio:
1999-2003: Alaska Commercial Fishermen
2002-2007: Apprentice Linemen
2007-2018: Journeymen Linemen
2018-present: Line Crew Supervisor at Chugach Electric Association
Diving Experience:
GUE Instructor
GUE Technical Diver 2
GUE Cave Diver 2
Dozens upon dozens of cold water dives
Specialties:
GUE Fundamentals Instructor
GUE Doubles Primer Instructor
GUE Drysuit Primer Instructor
Unsettling-ly large collection of porcelain scuba figurines
Piercing blue eyes
Very, very good at scuba and teaching other people scuba
Always smells like sandalwood
Looks great in drysuits
Fun Facts:
Cameron's DPV uses a motorcycle battery
Cameron is responsible for no less than 65% of the electrical line laid in North America, and lived in a Silver Bullet trailer for over a decade. He also can fly helicopters (but doesn't have a pilot's license)
Can't read
Cameron has a really neat collection of suits that you should avoid ever asking him about. Seriously.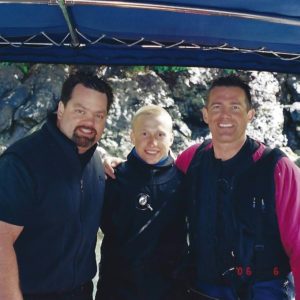 Read more about your Dive Alaska family here!